Tropical Storm Lee
Tropical storm (SSHWS/NWS)

Tropical Storm Lee near peak intensity on September 2

Formed
September 2, 2011
Dissipated
September 6, 2011
(Extratropical after September 5)
Highest winds
1-minute sustained:

60 mph (95 km/h)



Lowest pressure
986 mbar (hPa); 29.12 inHg
Fatalities
18 total
Damage
$1.6 billion (2011 USD)
Areas affected
United States Gulf Coast and Eastern United States
Part of the 2011 Atlantic hurricane season
Tropical Storm Lee was a weak but destructive hurricane that brought flash flooding to the Gulf Coast. The twelfth named storm of the 2011 Atlantic hurricane season, Lee developed from a broad tropical disturbance over the Gulf on September 1. It was designated as Tropical Storm Lee the next day. After becoming extratropical, Lee caused historic flooding in Pennsylvania, New York, and Canada.
The total damage was estimated to be around $1.6 billion and deaths were totaled to 18. Despite this, the name was not retired and was reused in 2017.
Meteorological history
A tropical wave developed into a tropical depression south of Louisiana on September 2 and later strengthened enough to be classified as Tropical Storm Lee. Lee became subtropical prior to landfall, similar to Tropical Storm Allison in 2001. Lee stalled over the Gulf dumping rain on Louisiana, a big concern for New Orleans. on September 4th, Lee finally moved inland as a minimal tropical storm, dumping more rain and causing several Tornado warnings. It eventually became extratropical on September 5, moving northeast dumping record rainfall across the northeast until dissipating on September 6.
Impact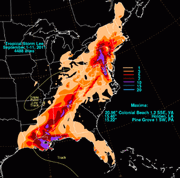 Lee's damages were a result of flooding. In Louisiana, some towns near the landfall area went underwater due do a large amount of rain. In Mississippi, coastal roads flooded and a tornado damaged a church. In Alabama, 220,000 customers lost power during the storm.
The remnants of Lee caused some rainfall as it headed towards the Northeast. However, in the Northeast, damages were awful. The Susquehanna River went over its banks and caused some evacuations in Pennsylvania and New York. It put entire towns, including Owego, New York, underwater. In some places, rain reached almost 20 in., which was the worst the Northeast had seen since Hurricane Agnes which hit the area as a Tropical Storm in 1972.