Lee was the twelfth named storm of the 2011 Atlantic hurricane season. Lee packed winds of 60 mph. It made landfall as a weak subtropical storm on Louisiana with 45 mph winds.
History
Lee formed as a tropical depression south of Louisiana on September 2nd and later that increased convection on the East side of the storm and the winds became tropical storm force and became Tropical Storm Lee. Lee started heading for Louisiana. On September 3rd it became Sub-Tropical Storm Lee as it continued to Louisiana. Lee stalled over the Gulf dumping rain on Louisiana a big concern for New Orleans. Then on September 4th finally moved inland as a minimal Tropical Storm dumping more rain and causing several Tornado warnings. It became Extra-Tropical and moved northeast dumping record rainfall across the northeast. It dissipated on the 6th.
Effects
Lee's main effects were major flooding. In Louisiana some towns near landfall area went underwater due do a large amount of rain. In Mississippi coastal roads flooded and a tornado damaged a church. In Alabama 220,000 customers lost power in the height of the storm
As the remnants of Lee headed towards the Northeast it caused some rain. However in the Northeast it was awful. The Susquehanna River went over its banks and caused some evacuations in Pennsylvania and New York. It put entire towns, like Owego,New York, underwater. In some places rain reached almost 20 in. This was the worst the Northeast had seen since Hurricane Agnes which hit the area as a Tropical Storm in 1972.
Lee killed 18 people and did $1.6 billion in damges. It will be used again in 2017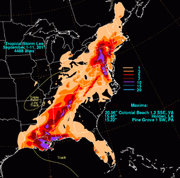 Ad blocker interference detected!
Wikia is a free-to-use site that makes money from advertising. We have a modified experience for viewers using ad blockers

Wikia is not accessible if you've made further modifications. Remove the custom ad blocker rule(s) and the page will load as expected.