Atlantic hurricane season is the 6-month timeframe in which tropical cyclones are most likely to form in the Atlantic basin. Atlantic hurricane season officially begins on June 1 and lasts until November 30, lasting a total of 183 days. However, the majority of strong storms form between August and October, with a peak around September 10.
Activity by month
June
June 1 officially marks the beginning of Atlantic hurricane season. Activity in June occurs in roughly half of Atlantic hurricane seasons, but recent Atlantic hurricane seasons have been seeing more June activity (only 2 of the last 10 seasons has not had a storm in June). However, June hurricanes are fairly uncommon, occurring once or twice a decade on average. June Atlantic tropical cyclones usually form in the Gulf of Mexico or the Western Atlantic Ocean. The "hotbed" of Atlantic June tropical cyclone activity is the eastern Gulf of Mexico, where it is common to see tropical storms develop during the month.
July
July is a rather inactive month for Atlantic tropical cyclone activity, but more than half of seasons feature some July activity. July storms most commonly form in the Atlantic Main Development Region (MDR), Gulf of Mexico, Eastern Caribbean, or Western Atlantic (primarily along the Gulf Stream). MDR activity is usually limited in July, however, due to the Saharan Air Layer (SAL). July hurricanes occur in slightly less than half of Atlantic seasons. In rare cases, a major hurricane occurs. The last Atlantic major hurricane in the month of July was Bertha in 2008. Many active Atlantic seasons - such as 1999 and 2016 - do not have July activity, so July activity is not a strong indicator of activity for the entire season.
August
In August, wind shear decreases while ocean temperatures warm. August activity can occur throughout the basin. Late in the month, development near Cape Verde is very common. August features 2-3 storms on average, although some seasons can have over 5 storms form during the month. August often features long-lived, intense storms. Notable Storms: Hurricane Katrina.
September
September is generally the peak of Atlantic hurricane activity, and nearly all seasons feature at least one named storm during this month. 3-4 storms form on average during September, with 1-3 hurricanes. In most seasons, a major hurricane occurs during this month. Activity can occur throughout the basin in September. In early September, the main area of activity is the Atlantic Main Development Region (MDR). In late September, the activity begins to shift back towards the western Atlantic and Caribbean.
October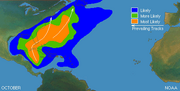 In October, wind shear increases and sea surface temperatures begin to cool, but 1-2 storms form on average during this month. October is often noted for intense storms, with the strongest Atlantic hurricane on record - Hurricane Wilma - forming in October. A secondary peak of Atlantic hurricane activity occurs around October 20. October is also the time of year when subtropical cyclone formation is most common, due to increased instability. Activity in October is primarily clustered to the Caribbean and Western Atlantic Ocean, with activity in the MDR becoming rare, especially in the second half of the month.
November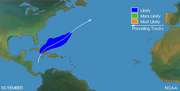 November, the final month of Atlantic hurricane season, is when activity begins to slow down fast due to stronger wind shear and cool sea surface temperatures. However, slightly more than half of Atlantic hurricane seasons have activity in November. November activity, much like October, primarily occurs in the Western Atlantic and Western Caribbean Sea. Like July, in rare cases, a major hurricane occurs, usually in the Western Caribbean Sea. The most recent November major hurricane in the Atlantic was Hurricane Paloma in 2008. Atlantic hurricane season officially ends on November 30, and activity is rare after this date.
Ad blocker interference detected!
Wikia is a free-to-use site that makes money from advertising. We have a modified experience for viewers using ad blockers

Wikia is not accessible if you've made further modifications. Remove the custom ad blocker rule(s) and the page will load as expected.